This course was updated in June 2020 with new material adapted to Procreate 5's latest updates in layout and animation tools such as color, cloning, and brushes.
Digital illustration, throughout its history, has had several marquee programs, from FreeHand to Adobe Illustrator, CorelDRAW, and many more. Today, Procreate is the most used illustration program for iPad, and in this 7-course Domestika Basics, you will learn to master it, without any previous knowledge with Román García, illustrator and biologist who has collaborated for magazines of the National Geographic and the Botanical Garden of Madrid.
In the first course, you will learn the basic foundations, analyzing the synergy between Procreate, the iPad Pro and the Apple Pencil, and why this is the optimal combination of hardware when creating illustration projects with Procreate. You will install the application and start discovering its interface.
You will paint your first strokes in Procreate in the second course and take a tour of the types of brushes and basic drawing tools offered by the program to create your own digital sketches.
In the third course, you will discover the Actions menu, which will allow you to add images and text, edit the canvas, share images, and record your drawing process, among other things.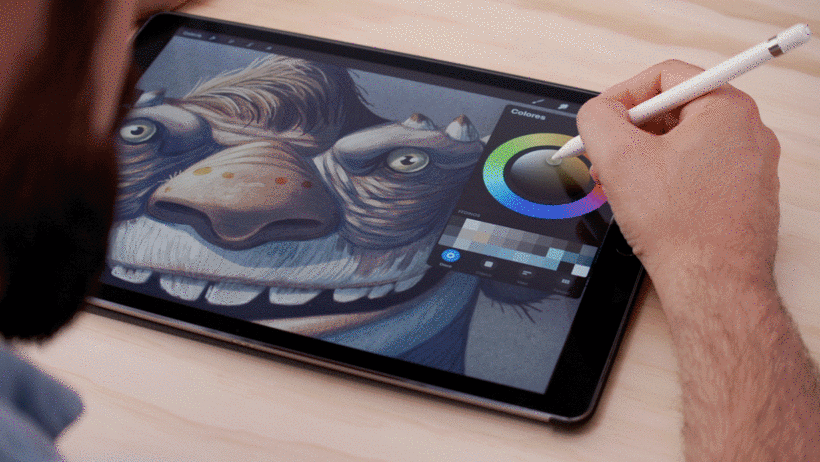 The Settings menu will be the object of study in the fourth course. You will discover filters and functions such as the inclusion of blur, noise, smoothie, basic image editing, and repainting.
You will learn the importance of layers in the Procreate workflow. You will see how they are organized, how to create new layers, merge them, and organize them into groups. You will learn about the blending modes of layers, masks, and reference layers.
Then you will deepen the selection and transformation options to adjust your illustrations. You will learn to transform, deform, and select parts of your illustrations.
The last course of this Procreate Domestika Basics will be dedicated exclusively to brushes. You will learn to use them by modifying their parameters and then create different types of brushes and organize them into groups depending on their style.
Technical requirements
⦁ An iPad with iOS 12.0 or later.
⦁ In order to take advantage of the most advanced Procreate options, you will need an iPad Pro and an Apple Pencil or similar pencil.